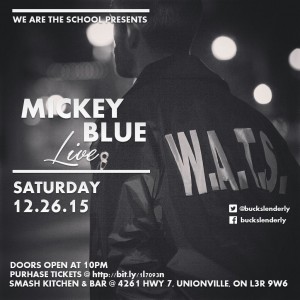 For the very first time ever, WE ARE THE SCHOOL presents
Mickey Blue LIVE IN CONCERT!
After almost 2 years of releasing music the time has come for the debut performance from a Social Talk favourite, Mickey Blue. Just in time for the new year, Mickey will be playing just north of Toronto, in Markham Ontario at Smash Kitchen & Bar on December 26. A great way to spend your Boxing Day evening. As the title of the event evokes, it will be an intimate evening, showcasing Mickey's incredible vocal talent. His latest single, "We Just Be" (above), off his debut EP A Man In Love, truly shows Mickey's vocal and lyrical ability. This song is crisp and professional and I can't wait to hear him live. Oh, and did I mention drinks will be $5 ALL NIGHT.
Don't sleep, grab your tickets now: Click Here
Mickey Blue Official Website / Soundcloud / Instagram / Twitter / Facebook